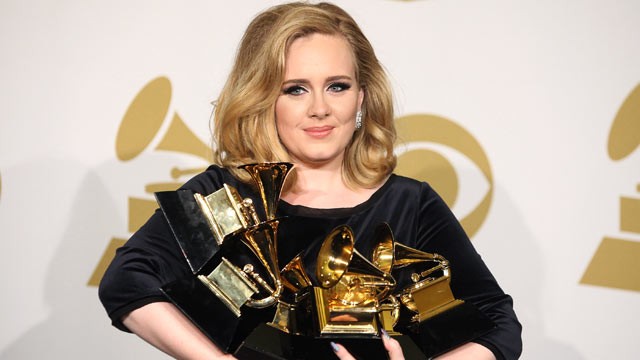 Adele Foto: abcNEWS.com
The World have finaly turn their head around and finally discovered Adel. One of the finest voices on the planet. This weekend she finaly get awarded for the adventurous fine music she makes. Adele is one of the most exciting artists to follow in time to come.
I know there millions of fans world wide that is so in love with Adele and here music. It is there for grabs and she sells albums like hell.
Adele has won the Grammy in the Album Of The Year category for her heart-wrenching sophomore album «21.»
[youtube]http://www.youtube.com/watch?v=5Oio8V3e3WU[/youtube]
«I want to say thank you to Rick Rubin for teaching me about quality control,» the singer said after thanking her mother. She was overcome with emotion at the beginning of her speech but gathered herself before continuing with her touching acceptance remarks.
The singer, who scored an award in all six categories she was nominated for including Pop Vocal Album, Best Pop Solo Vocal Performance, Short Form Music Video, Record Of The Year, and Song Of The Year.
In the press room on Sunday night, Adele shared that she thinks the ex that inspired 21 would be happy for her these days, and she teases in the magazine that she's done with heartbreak tracks for the time being. «Come on! I'm wifey material! I'm great. No one's got to be brave.
The Grammy audience clapped along enthusiastically throughout the performance, and the singer seemed completely in her element on the simple stage. She received a standing ovation when she finished, and remained on stage for a good amount of time to drink in the applause.
If there is any chanse for Adele to come and hold a concert in Scandinavia, I sure will see it.
For only £ 14.99 you will have a tearful, fantastic and marvelous time with the beautiful Adele Live in Royal Albert Hall. By it here.
It's so easy to love her music and the person who makes it, just look at her then! She is so lovely!
Vargas
http://www.adele.tv/